You are here: Home » Trekking » Santa Cruz
---
Santa Cruz
Cordillera Blanca
This trek explores three of the most spectacular gorges of the Huascaran National Park, the Santa Cruz Valley, and Llanganuco Huaripampa. During the four day trrek in the heart of the Cordillera Blanca, we will enounter the best Andean scenery. As we walk through ancient Inca roads surrounded by forests and exotic vegetation such as quenuales and quiswar, we will see crystal clear rivers, beautiful lakes and stunning scenery. From the Punta Union Pass we will have stunning views of the main peaks of the Cordillera Blanca: Alpamayo, Artesonraju, Taulliraju, Pisco, Chacraraju, Chopicalqui, Huandoy, Huascaran, etc.
Itinerary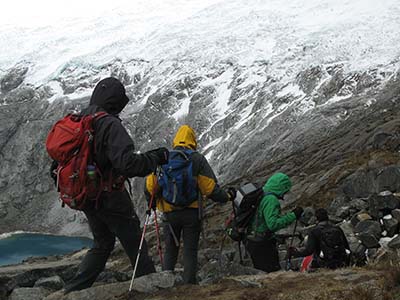 Day 1: HUARAZ - CASHAPANPA - LLAMACORRAL (3750m)
We will see parts of the city of Huaraz by bus and travel through the following provinces of Carhuaz Huaylas, Yungay and Caraz, to reach the town of Cashapampa. Then we will be at 2,900 meters and from there we will begin our trek. After about 3 hours we will get to Llamacorral at 3,800 meters.
Day 2: LLAMACORRAL - TAULLIPANPA (4250m)
The second day will give us views of the mountains Caraz and Jatuncocha Ichiccocha, as well as Cerro Santa Cruz (6259m), Quitaraju (6036m), Alpamayo (5947m), Artesonraju (6025m), and then come to our second camp at Taullipampa at 4200 meters.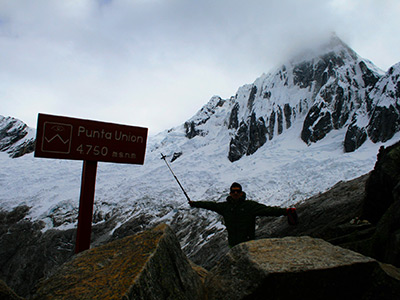 Day 3: TAULLIPANPA - PUNTA UNION (4750m) - PARIA (3850m)
This day we will follow switchbacks to reach the highest point on the trek, Punta Union Pass (4750m). From there we will appreciate beautiful views of the lakes Taullicocha, Jatuncocha and Union. Then we will descend with views of the mountains Pariah (5600m) and Pyramid (5885m). We will make our camp for the night at Cachipampa.
Day 4: PARIA - VAQUERIA - HUARAZ
At 5752m we will see mountains such as Pisco and Chacraraju. We will also see Chopicalqui (6112m), and both Huascaran North and South peaks (6768m), as well as Huandoy (6395m). From there we approach Llanganuco Lake, and then make our way by bus to Huaraz.