You are here: Home » Peru » The Peruvian Andes
---
Peru
The Peruvian Andes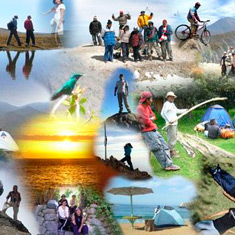 In Peru the Andes form a set of mountain ranges that cross our land from south to north, exhibiting different geologic features of shape, structure and composition.
The Andes occupy 32% of the country, with about 20 different mountain ranges. Two stand out for their unique form and profile: The Cordillera Blanca, and the Cordillera Huayhuash. These ranges host two of the highest summits of Peru: Huascaran at 6.768m and Yerupaja at 6.679m respectively.
The Andes help feed rivers and streams arcoss Peru, and contain an enormous amount of water gained from the mountains as a product of rain or glacial thaw over many millions of years.
Main Mountains of Perú
Mountain
Altitude: (m.s.n.m)
Cordillera
Huascarán Sur
Huascarán Norte
Yerupajá
Coropuna
Huandoy Norte
Huantsan
Ausangate
Huandoy Oeste
Chopicalqui
Siulá Grande
Ampato
Sancantay
Santa Cruz
Chinchay
Ranrapalca
Sarapo
Hualcán
Chacraraju Oeste
Jirishanca
Jirishanca
Chachani
Pucahirca Norte
Quitaraju
Artesonraju
Rasac
Chacraraju Este
Carnicero
Alpamayo
Palomani
Humantay
Ocshapalca
Tunshu
Ulta
Misti
Pariaqaqa
Pisco Oeste
Verónica
Verónica
Cayesh
Santa Rosa
Ubinas
Huaytapallana
Mismi
Rajuntay
Taulliraju
Alcoy
San Andrés
6768
6655
6634
6425
6395
6395
6372
6356
6354
6352
6310
6271
6259
6222
6162
6127
6122
6112
6094
6094
6076
6046
6046
6025
6017
6001
5960
5947
5940
5917
5881
5879
5875
5822
5768
5752
5750
5750
5721
5706
5672
5600
5597
5470
5380
5380
5270
Blanca
Blanca
Huayhuash
Ampato
Blanca
Blanca
Vilcanota
Blanca
Blanca
Huayhuash
Chila
Vilcabamba
Blanca
Blanca
Blanca
Huayhuash
Blanca
Blanca
Huayhuash
Huayhuash
Volcánica
Blanca
Blanca
Blanca
Huayhuash
Blanca
Huayhuash
Blanca
Carabaya
Vilcabamba
Blanca
Central
Blanca
Volcánica
Central
Blanca
Urubamba
Vilcabamba
Blanca
Raura
Volcánica
Central
Chila
Central
Blanca
La Viuda
Central
ANY QUESTIONS?
Not a problem!
Contact us
and we will answer any of your questions.
Follow us on Facebook
---


ANDEAN SUMMIT
Travel and Adventure Agency
Psje. Wuamashraju N° 692 - Parque Ginebra
(In front of House of Guides), Huaraz - Perú
Mobile/Movil:
+51 990221361
Skype:
andeansummit
Email:
/
Copyright © 2023 - All Rights Reserved.