You are here: Home » Trekking » Huayhuash
---
Huayhuash
Cordillera Huayhuash
The Huayhuash range is located in central Peru highlands 50 km south of the Cordillera Blanca. It contains 7 mountains over 6,000m in height and other mountains over 5,500m. Among them is the second highest mountain of Peru, Yerupaja (6634m), and the Siula Grande (6356m) made famous by the climber Joe Simpson Touching the Void, as well as others such as Rondoy (5879m), Jirishanca (6094m) Yerupaja Chico (6121m), Sarapo (6127 m), Trapeze (5.644 m), Diablo Mudo (5223m) and Pumarinri (5465m). This trek covers nearly 165 kilometers, and is considered the second most beautiful trek in the world.
Itinerary
Day 1: HUARAZ - MATACANCHA (4200m)
We leave the city of Huaraz to the south side, enjoying the scenery of the Cordillera Blanca. We will take a detour into the lagoon Conococha toward Llamac village (3300m).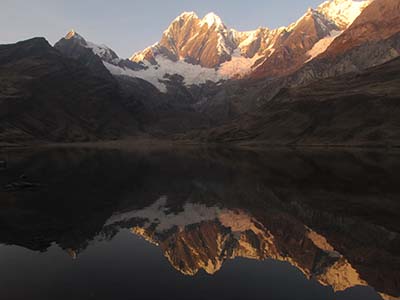 Day 2: MATACANCHA - CARHUACOCHA (4150m)
We will leave our camp to walk up to Cacananpunta (4800m) and then down to the Lake Mitucocha, and then to camp at Carhuaccocha (4650m). At Lake Carhuaccocha we will see some mountains that surround the lake.
Day 3: CARHUACOCHA - HUAYHUASH (4100m)
From our camp we continue to the Siula Pass (4800m) by the three lakes and arrive at the Huayhuash campsite (4100m).
Day 4: HUAYHUASH - VICONGA LAKE (4000m)
Following the Portachuelo Pass (4700m) we pass the Viconga Lake and continue to the camp (4000m).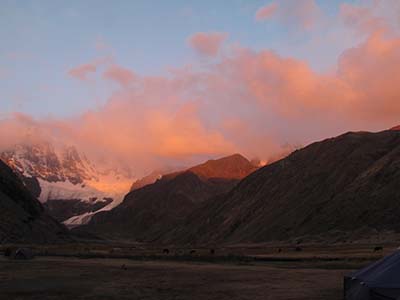 Day 5: VICONGA LAKE - QUEBRADA HUANACPATAY (4150m)
After going through the highest pass, Cuyoc (5000m), we will make our way down to the camp at Creek Huanacpatay.
Day 6: QUEBRADA HUANACPATAY - HUATIAC (4300m)
We leave our camp and approach the village of Huallyapa, then to Huatiac Camp (4100m).
Day 7: HUATIAC - GASHPAPAMPA (4100m)
From Huatiac, we ascend to Tapush Pass (4700m), then continue into Susucocha then Gashpapampa to camp.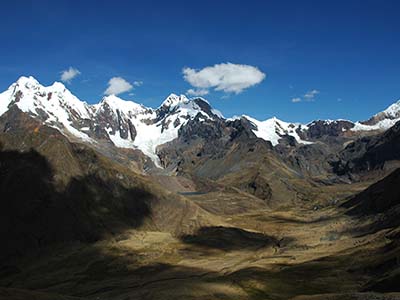 Day 8: GASHPAPAMPA - JAHUACOCHA (4150m)
We will follow the trail to the pass Yaucha (4700m) and down to the Lagoon Jahuacocha (4150m) where we have beautiful views of the Yerupaja and Hirishaoca (6069m).
Day 9: REST:
We will walk around the lake or visit the Lake Solterococha, where we will enjoy local food.
Day 10: JAHUACOCHA - LLAMAC - HUARAZ
We continue walking to the village of Llamac (3300m) where we take our bus back to Huaraz.