You are here: Home » Climbing » Nevado Chopicalqui
---
Nevado Chopicalqui
Cordillera Blanca
Chopicalqui (6354m) is a beautiful mountain located in the Cordillera Blanca. It is easily accessible, and can be clibed relatively quickly. The climb provides beautiful views of other mountains such as the Huascaran (6354m), the highest in Peru, and other nearby mountains.
Itinerary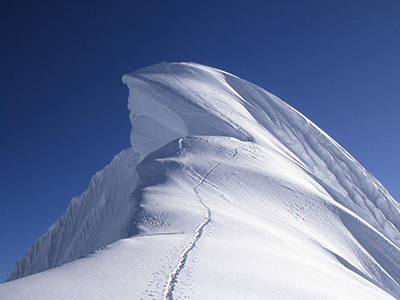 Day 1: HUARAZ - BASE CAMP CHOPICALQUI (4430m)
By bus we travel to the beginning of the path to base camp (3950m). From there we will start the walk to the base camp(4430m).
Day 2: BASE CAMP - MORAINE CAMP (4820m)
On this day we ascend slowly to the Moraine Camp (4850m) to camp and acclimate.
Day 3: MORAINE CAMP - CAMP 1 (5380m)
This day we hike on the glacier to camp overnight.
Day 4: CAMP 1 - SUMMIT - MORRAINE CAMP (4850m)
This day we will reach the summit early where we have a stunning view of different mountains around the summit, such as the Huascaran (6768m), the highest mountain in Peru, Huandoy, Pisco and others. Then we return to Chararaju to camp.
Day 5: MORRAINE CAMP - BASE CAMP - HUARAZ
This is an easier day in which we descend the moraine to the bus station to return to Huaraz.