You are here: Home » Trekking » Alpamayo Circuit
---
Alpamayo Circuit
Cordillera Blanca
In this trek we see many peaks over 5,000 meters, such as the Huascaran (6768m), the highest peak in Peru, and Alpamayo (5947m) with its unique pyramid shape, which was ranked in the 1966 Global Survey on Scenic Beauty as the world's most beautiful peak. It was first climbed in 1957.
Itinerary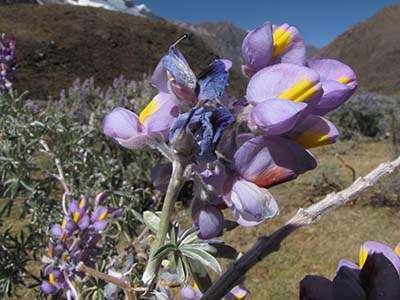 Day 1: HUARAZ - HUALCAYAN (2900m)
We continue north of the city of Huaraz traveling to Huaylas valley to the village of Hualcayan, the start of the trek.
Day 2: HUALCAYAN - WISHCASH (4300m)
We will walk up the path to 4320m, where it is possible to witness the best sunset in the Cordillera Negra from our second camp in Wishcash.
Day3: WISHCASH - OSORURI (3950m)
This day leads us through the Cedar Creek, abundant with flora and fauna, where we will see the famous snow-covered Lake Cullicocha.
Day4: OSORURI - JANCARURISH (4150m)
We will continue our trek up to the next camp, where we will get views of Alpamayo (5947m), the most beautiful mountain in the world.
Day 5: REST DAY
We will approach the viewpoint for a closer view of Alpamayo, as well as the surrounding mountains.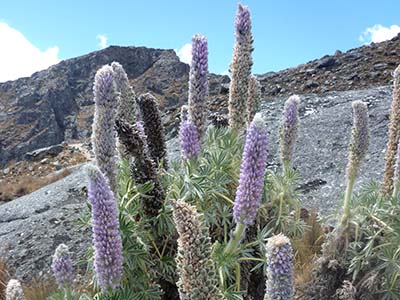 Day 6: JANCARURISH - PASO CARA CARA - HUILLCA (4000m)
We will cross over the highest pass of the trip, Cara Cara (4750m), and we will reach the Huillca campsite.
Day 7: HUILLCA - JANCAPANPA (3650m)
We begin a climb where we have spectacular views of the Andes and landscapes that adorn the white mountains and arrive at our camp Jancapampa (3650msnm).
Day 8: JANCAPAMPA - HUECROCOCHA (3950m)
We continue our trek surrounded by beautiful countryside with vegetation and wildlife.
Day 9: HUECROCOCHA - TUCTUBANBA (4100m)
We will depart for the passage of Pucajirca (4650m), where we will see snow covered peaks such as Pucaraju and Taulliraju, as well as other mountains. From there we will get to the campsite of Tuctubamba (4100m), which gives us stunning views of the mountains Paria, Taulliraj, Paron and Pyramid.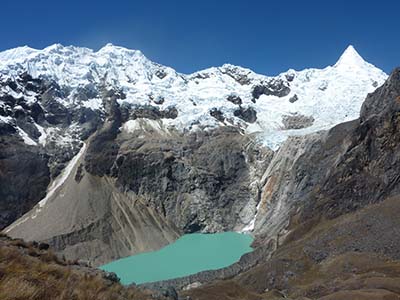 Day 10: REST
On this day we will cross over Punta Union pass (4750m), which gives impressive views of Taulliraju, Rinrijirja, Pucaraju, Artezon Raju, and others.
Day 11: TUCTUBANBA - MOLINOPANPA (3650m)
We will pass through some villages, such as Huaripanpa, Colcabanba, Chalhua where we see the daily life of people in the Andes.
Day 12: MOLINOPANPA - AVALACHA CAMP (4600m)
We will walk to the Avalancha Camp, where we see freshly fallen avalanches, and the snow covered peak Contrayervas.
Day 13: AVALANCHA CAMP- ULTA - HUARAZ
The last day will require about 5 hours of walking,where we will make a stop to see Yanayacu (4850m), and the snow covered peaks of Contrayervas, Ulta, and Chopicalqui. From there we will take the bus to Huaraz.