You are here: Home » Climbing » Nevado Huascaran
---
Nevado Huascaran
Cordillera Blanca
Huascaran is the highest tropical mountain in the world and therefore the best known in Peru. It is located in the Huascaran National Park, with a height of 6768m. This mountain is also the highest in Peru, and the view from the summit provides a vista of most of the Cordillera Blanca. It offers countless routes of ascent with varied terrain with snow and rock routes also.
Itinerary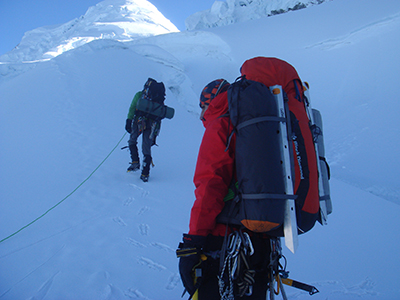 Day 1: HUARAZ - MUSHO - BASE CAMP (4350m)
We depart by bus to where we take a detour for twenty kilometers to the village of Musho (3030 m). From here begins the trek to base camp (4330m). Here is where we camp.
Day 2: BASE CAMP - CAMP 1 (5260m)
We begin our walk along the mountain path where we take a small break before walking to the glacier. Along the mountain path we will climb to our first camp (5200m).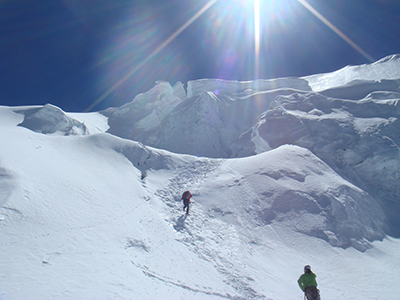 Day3: CAMP 1 - CAMP 2 (6000m)
On this day we will ascend for about five or six hours to our next camp.
Day 4: CAMP 2 - HUASCARAN SUMMIT (6768m) - CAMP 2
We leave early to climb to the summit of Huascaran which will take five or six hours. After reaching the summit we will descend to Camp 2 where we spend the night.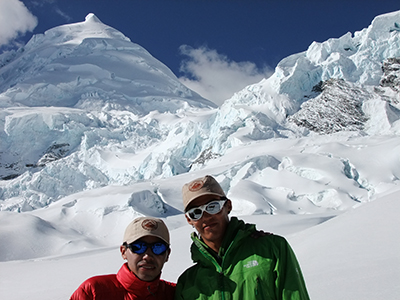 Day 5: CAMP 2 - BASE CAMP
We will descend down the mountain path until Huascaran base camp.
Day 6: BASE CAMP - MUSHO - HUARAZ
We walk to the village of Musho where we wait for the bus to take us to Huaraz.